While P3 and tolling operations are new to the Louisiana landscape, Plenary projects have been implemented across the US and world with over 40 currently in operation and 10 under construction. A sampling of Plenary Americas' successful tolling projects outside Louisiana are described below; to learn more about the P3 approach, visit the Federal Highway Administration's Center for Innovative Finance Support.
An overview of types of P3 is also available through the FHWA, as well as a national map showing P3 projects in progress or in operations phases that can be viewed here.
Colorado: US 36 Express Lanes
The US 36 project involved the construction of one express lane in each direction along the US 36 median and the Bus Rapid Transit system operates within the managed lane.
Contract Duration: 50 years for Operation & Maintenance
Design Features

Two additional express lanes
Widening of highway to accommodate 12 feet inside and outside shoulders
Installed separate commuter bike path
Installed Intelligent Transportation Systems for tolling, transit, traveler information

Employed 1,200 workers at the peak of construction
Project was executed 20 years earlier than expected
Two phases: 1) Design Build 2) P3
The Corridor diagonally bisects the northwest Denver metropolitan area, carrying between 80,000 and 120,000 trips per day. The Corridor is economically diverse: approximately 17 per cent of the Denver metro region's business and employment—more than 26,000 businesses and 200,000 jobs—are located along the Corridor.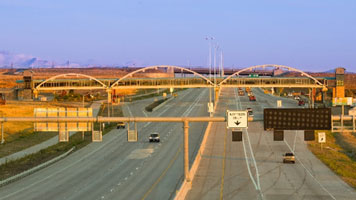 US 36 Express Lanes
Recognized by the FHWA as one of the nation's first transportation corridors designed to simultaneously accommodate a variety of transportation modes
Created options for cleaner, safer, reliable travel regardless if they are in the car, bus, carpooling or on their bicycles
Provided enhanced level of service
Support from local communities and stakeholders who support the delivery model
Delivery of a well-maintained multimodal transportation corridor 20 years sooner than planned and possible through conventional delivery methods
Project was projected to be finished five years ahead of schedule
Plenary Roads Denver
Contract Duration: 50 years
Benefits: Reliable predictable travel times
Awards: Best Use of Technology & Innovation, Service Project Award, Best Operational Project Finalist
Additional information on US 36 can be found here:
Pennsylvania: Rapid Bridge Replacement
The Pennsylvania Rapid Bridge Replacement Project is an availability payment-based P3 that will replace 558 structurally deficient bridges in three years. The Pennsylvania Department of Transportation entered a P3 agreement with Plenary Walsh Keystone Partners to design and construct the bridges and then maintain them for 25 years. The bridges are smaller spans on local streets in rural areas across the state. The purpose of the Rapid Bridge Replacement Project is to accelerate the replacement of structurally deficient bridges with robust, high-quality new structures that will be well maintained and have longer lifespans.
Value $1.12B included $889M of design and construction works
Contract Duration: 28 years
Scope: Replaced 548 bridges throughout predominantly rural areas of the state
Design, Build, Finance, and Maintain
Innovation: first multi-asset P3 in the U.S.
Economic impact: 18 Pennsylvania subcontractors were used; a large quantity of construction materials was needed for a three-year construction period that was primarily from local suppliers and fabricators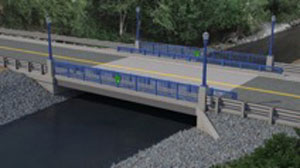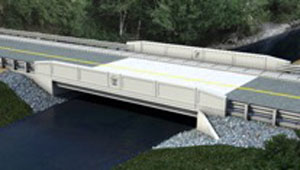 Additional information on PA Bridges can be found here: