Timelapse Video
October 26, 2022 – August 28, 2023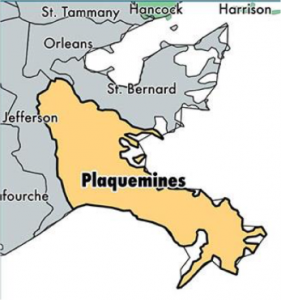 The Belle Chasse Bridge and Belle Chasse Tunnel serve as the primary access points for the residents, businesses, and industries of western Plaquemines Parish. Both the bridge and tunnel are located on the LA 23 corridor, which has a current traffic volume in excess of 33,000 vehicles per day.
The movable bridge began operating in 1968 and the tunnel in 1956. These structures are near the end of their design life span. Currently, there is a need to replace unreliable and inefficient infrastructure due to frequent, costly, and unpredictable operations for repair and maintenance which impact the public's ability to travel.
In 2017, the Louisiana Joint Transportation Committee approved the use of a Public-Private Partnership (P3) to deliver the replacement project. This project is LADOTD's first P3 and is paving the way for this delivery method to be utilized on other state projects. Several public sources of funding were secured to execute the project.
Click HERE to download our new project overview document!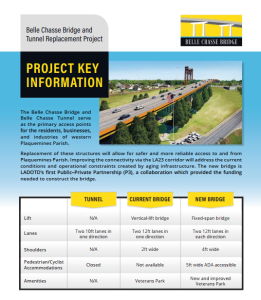 $45M
USDOT Infrastructure for Rebuilding America (INFRA) Grant
$34.4M
Federal/state funds allocated to DOTD
$12M
Regional Planning Commission
The project will replace the existing bridge and tunnel with a fixed-span, 4-lane bridge. Replacement of these structures will allow for safer and more reliable access for the residents, businesses, and industries in Plaquemines Parish. Improving the connectivity via this corridor will address the current conditions and operational constraints created by aging infrastructure.
SUMMER 2020
Design input on bridge and park
2020-2024
Lane closures, construction
To learn more, view our Frequently Asked Questions
| Date | Event |
| --- | --- |
| DECEMBER 2017 | LA Joint Transportation Committee approved the use of a P3 |
| FEBRUARY 2018 | LADOTD issued a Notice of Intent |
| JUNE 2018 | LADOTD shortlisted 3 teams to submit proposals |
| MARCH 2019 | LADOTD received the proposal from Plenary Infrastructure Belle Chasse |
| DECEMBER 2019 | LA Joint Transportation Committee authorized the execution of the P3 contract |
| 2020 – 2024 | Design/Construction |
| 2024 | Bridge Operational |
For more information about this project, please contact us.